The following text only is a translation of the german license agreement. The german version of the license agreement remains legally binding.
1. TextTransformer license agreement
Please, read carefully the following license agreement. before downloading or installation of the TextTransformer software. This document represents a legal declaration between you (a single person or company) and Dr. Detlef Meyer-Eltz. By the use of the software you declare your agreement to the conditions of the license declaration.
1. Rights of ownership
The TextTransformer software and each accompanying documentation are property protected of Dr. Detlef Meyer Eltz and by national laws and international agreements. The right of ownership at the software as well as all copies, modifications and translations of the same remains at Dr. Detlef Meyer Eltz any time.
2. License transmitting
The software and accompanying documentation is left to you as license to use the software in accordance with this license declaration exclusively. This license may not be transferred to any persons or enterprise.
This license is assigned personally to you. You may not rents out, sells or transfers the software or accompanying documentation to another person as side license. As a single person you may use the software for your personal use and as enterprise only for your internal business purposes. Further you aren't allowed to translate the TextTransformer software, to disassemble or to decompile it or to change it by by reverse engineering, as far as this isn't allowed to the European software guideline no. 91/250 by articles 6. You finally oblige yourself not to sell or to rent out any rights at the TextTransformer software and not to remove the hints to copyrights and other rights of the TextTransformer software.
3. Source code
C++ source code files are enclosed in the professional version of the TextTransformer software and the TextTransformer software generates further source code. Both kinds of source code may be distributed to third parties in compiled, not readable binary form as far as they are part of an application which has a functionality with significant additions to the functionality created from TextTransformer source code alone. Under no circumstances the source code files delivered with the TextTransformer software or the source code produced with the TextTransformer software may be published.
4. Limited guarantee
Dr. Detlef Meyer-Eltz guarantees you, the original end user, that the TextTransformer software workes essentially in accordance with the accompanying documentation. This guarantee applies to the duration of 90 days as of purchase date This limited guarantee isn't applicable to software, which was changed, damaged, used improperly or used differently than descibed in the accompanying documentation.
5. Claims of the customer
If the TextTransformer software should not work in accordance with the limited guarantee according number 4, the engaging and liability as well as your claims at choice of Dr. Detlef Meyer Eltz are confined to either (A) eliminate the error or (B) to help to avoid the error or to go round it. In case of a replacement software the guarantee is taken only for the remaining period to maturity of the original guarantee period.
6. No further guarantee
THIS GUARANTEE IS GIVEN INSTEAD OF ALL OTHERS AND EXCLUDES AS FAR AS LEGAL PERMISSIBLY ALL OTHERS NOT GIVEN HERE. Especially Dr. Detlef Meyer-Eltz doesn't take on any guarantee, that the TextTransformer software is suitable for definite purposes. The TextTransformer software. is delivered as it is.
7. No liability for resultant damages
UNDER NO CICUMSTANCES DR. DETLEF MEYER-ELTZ IS LIABLE TO YOU OR A THIRD PARTY FOR ANY IMMEDIATE OR INDIRECT DAMAGES (NEITHER FOR RESULTANT DAMAGES, NEITHER FOR DAMAGE OR LOSS OF GOODWILL, FOR WORK AND OPERATING FAILURE, FAILURE OR MALFUNCTIONS FOR THE COMPUTER OR ANY OTHER ECONOMIC DAMAGES OR LOSSES) WHICH ARISES BECAUSE OF THE DELIVERY, PERFORMANCE OR USE OF NOT THE TEXTTRANSFORMER SOFTWARE, EVEN IF DR. DETLEF MEYER ELTZ HAS BEEN INFORMED ABOUT THE POSSIBILITY OF SUCH A DAMAGE. UNDER NO CIRCUMSTANCES THE LIABILITY OF DR. DETLEF MEYER-ELTZ FROM CONTRACT OR LAW IN CONNECTION WITH THE TEXTTRANSFORMER SOFTWARE EXCEEDS THE LICENSE FEE PAID BY YOU FOR THE SOFTWARE.
8. Unauthorized use
You appreciate that any unauthorized use which violates this contract possibly irreparable damages Dr. Detlef Meyer-Eltz and because of it can possibly pull legal failure disposals after it (besides claims of compensation).
9. Information about unauthorized use
You are obliged to inform Dr. Detlef Meyer Eltz immediately, if it gets known to you that a third party is using or possessing the TextTransformer software unauthorizedly. In case of an unauthorized use of TextTransformer software which is in your possession, you are obliged to support Dr. Detlef Meyer Eltz at all measures, which Dr. Detlef Meyer Eltz takes, to protect his laws.
10. No further obligations
Dr. Detlef Meyer-Eltz isn't obliged to produce changed or improved versions of the software or to do other support for the TextTransformer software.
11. Changes
Dr. Detlef Meyer-Eltz reserves for himself to change prices, characteristics, functions, use possibilities, license conditions, the general availability or other qualities of the TextTransformer software any time.

Deutsch
Latest News
09/09/21
Delphi2CB: has been relased [more...]


08/06/21
Delphi2Cpp 2.0: DelphiXE2Cpp11 now is Delphi2Cpp 2.0 [more...]


"...
Fantastic!!!!
... You have exceeded my expectations and I love your product. We will get a lot of use out of it in the future for other projects."

Charles Finley

xformix 23-02-07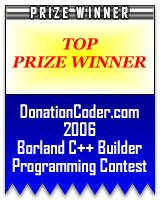 I was extremely impressed with your components and tools. Not only extremely powerful but very professionally done and well documented, etc. Really quality work, congratulations
mouser (First Author, Administrator)
This website is generated from plain text with [Minimal Website ]



Minimal Website is made with TextTransformer



TextTransformer is made with Borland CBuilder