User interface > Translation options > Output > Precompiled header
Some compilers allow header files to be precompiled into a precompiled header, which then hasn't to be recompiled in future compilations. The point up to which the code is precompiled is marked by a specific file or a pragma.
Delphi2Cpp can insert the according marker into the generated code.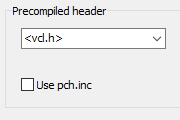 There are three options:
1. <vcl.h>
normally used with CBuilder. Delphi2Cpp also appends the line:
#pragma hdrstop
if this option is chosen.
2. "stdafx.h"
normally used with Visual C++.
3. No marker for a precompiled header at all
for other compilers like gcc.
If the options "Use pch.inc" is activated, no include directives are written into the C++ output, with exception of the header of the actual source file. The user can include the pch.inc file into the file for the precompiled headers or into the stdafx.h instead.